The breaking news from the World is that the Electoral College Votes 2016 Results out and Donald Trump Seals the Victory by getting more than 270 Votes.
The United States Electoral College is a mechanism established by Article Two of the United States Constitution in the complicated United States presidential election system to select the President of the United States and Vice President of the United States.
Citizens of the United States vote in each state at a general election to choose a slate of "electors" pledged to vote for a party's candidate.
Electors have cast their votes in 49 states and Washington, D.C. and Texas put President-elect Donald Trump over the top with 36 of its 38 electors casting votes for him.
A total of 534 electoral votes has been cast so far: 304 for Mr. Trump, 224 for Hillary Clinton and six "faithless" electors. A total of 270 votes were needed to win the presidency officially.
Donald Trump Wins the Electoral College (United States) Votes 2016 Results
The president-elect easily racked up the 270 electoral votes required to send him to the White House.And he officially now the Winner of Electoral College 2016.
"Today marks a historic electoral landslide victory in our nation's democracy," Trump said in a statement. "I thank the American people for their overwhelming vote to elect me as their next President of the United States."
He added, "this election represents a movement that millions of hard working men and women all across the country stood behind and made possible. With this historic step, we can look forward to the bright future ahead. I will work hard to unite our country and be the President of all Americans."
Across the U.S. Monday, every state's winning slate of electors was gathering in person in the state capitals to cast their votes for president and vice president.
The votes cast Monday will be sent on to the nation's capital by late December. Then, on the afternoon of January 6, Vice President Joe Biden will open the electoral votes before a joint session of the new Congress, where they will be counted.
Electoral College Votes By State 2016 Results: Donald Trump Wins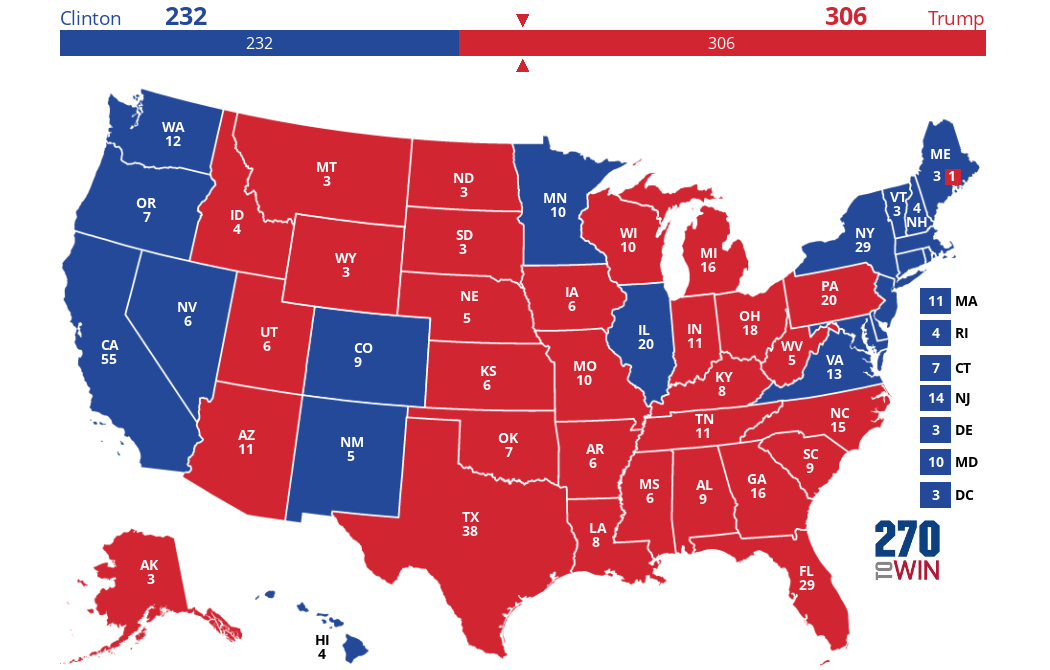 Click the map to create your own at
270toWin.com
The Map is Created by 270towin.com.Complete details will be given.
Stay tuned for other updates.